Andrew Cuomo claimed America "was never that great"

New York Gov. Andrew Cuomo has found himself in hot water over remarks he made on Wednesday, saying, "We're not going to make America great again. It was never that great." Cuomo riffed on President Donald Trump's ... Vox
---
08/16/2018 // New York Governor Andrew Cuomo says America was never great & much more
"SHUT UP, IDIOTS!" BRAVE Judge Just RIPS Andrew Cuomo & Hillary In A Brilliant Speech! A MUST SEE!!
00:00
Cuomo Says Trump's Idea Of America 'Never' Great
00:00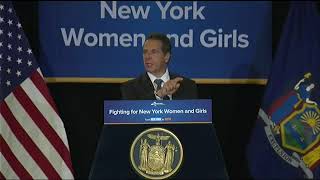 'America was never that great' says Governor a ttacking Trump's slogan
00:00
Andrew Cuomo says "We're not going to make America Great Again, it was never that great"
00:00